Code: HV0368 | Title: Camshaft Kit
Camshaft Kit - HV0368 ET ENGINETEAM - 038109101AF, 038103714G, 038103714
Car: VW Passat 2,0TDi PD, Audi A4 1,9TDI PD BGW, BKE, BRB, BHW 2004-2008
Camshaft kit with steel shaft by ET Engineteam for 1,9 / 2,0 TDi PD engines. It is full kit which solves replacement of all important parts in camshaft system for its smooth functioning and long life. Installed in Audi A4, VW Passat with BGW, BHW, BKE, BRB engines. OE: 038103673A 038103673B, 038103673C, 038109101AF, 038109309C, 038103673BGLB, 038103673CGLB, 038103714G, 038103714, 038103714A.
Considering the Fuel injection engine type specifics which require synchronicity of all components when one component is damaged every other component of camshaft system needs to be replaced. In the kit HV0368 are all components recommended for replacement while repairing the engine.
TIP: We have prepared a special website CamshaftKits.com. Website concerned about camshafts in details, all component troubles, prevention or solving problems solving. It deals with the special questions, to which it responds by great articles - e.g. in the text about causes and consequences of hydraulic tappets damages you will learn how to prevent these camshafts damages. Website is overflowing with camshaft information and other camshaft kit components.
ET Engineteam is Czech brand with spare engine parts specialization, by which they cover demand of the aftermarket since 2007. Dynamic and progressive, today they are among the best suppliers in the Czech Republic, and they are further expanding. Products of ET Engineteam can be found in prestigious Europe catalogue of engine parts TecDoc.
Kit HV0368 contains:
Alternatives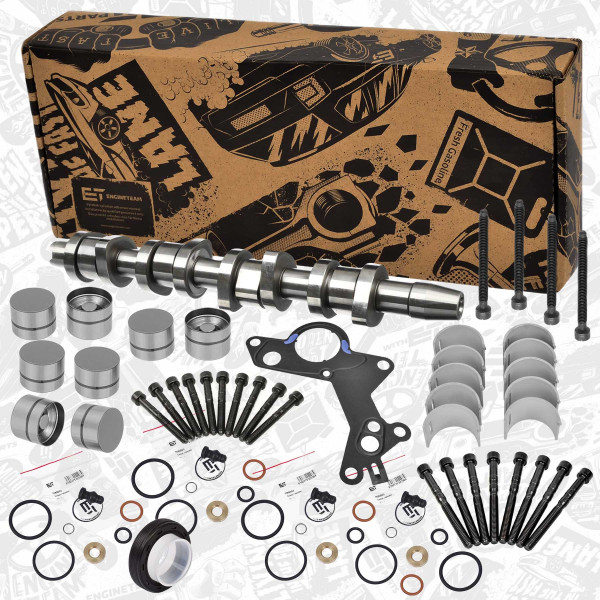 General information
Code:
HV0368ET
Brand:
ET ENGINETEAM
Title:
Camshaft Kit
Car:
VW Passat 2,0TDi PD, Audi A4 1,9TDI PD BGW, BKE, BRB, BHW 2004-2008
Weight

:
6,46 kg
Criteria
| | |
| --- | --- |
| Material: | Steel |
| Supplementary Article/Info 2: | with bolts |
| Supplementary Article/Supplementary Info: | with gaskets/seals |
| Trim Level: | with ET parts |
| Scope of Supply: | includes components ET Engineteam + Elring |
General information
Code:
HV0368KS
Brand:
ET ENGINETEAM
Title:
Camshaft Kit
Car:
VW Passat 2,0TDi PD, Audi A4 1,9TDI PD BGW, BKE, BRB, BHW 2004-2008
Weight

:
6,50 kg
Criteria
| | |
| --- | --- |
| For article number: | 50006343 |
| Material: | Steel |
| Supplementary Article/Info 2: | with bolts |
| Scope of Supply: | includes components ET Engineteam + Elring + Kolbenschmidt |
General information
Code:
HV0368VR2
Brand:
ET ENGINETEAM
Title:
Camshaft Kit
Car:
VW Passat 2,0TDi PD, Audi A4 1,9TDI PD BGW, BKE, BRB, BHW 2004-2008
Weight

:
7,00 kg
Criteria
| | |
| --- | --- |
| For article number: | 50006343 |
| Material: | Steel |
| Supplementary Article/Info 2: | with bolts |
| Supplementary Article/Supplementary Info: | with gaskets/seals |
| Supplementary Article/Supplementary Info: | with plunger |
| Scope of Supply: | includes components ET Engineteam + Elring + Kolbenschmidt |